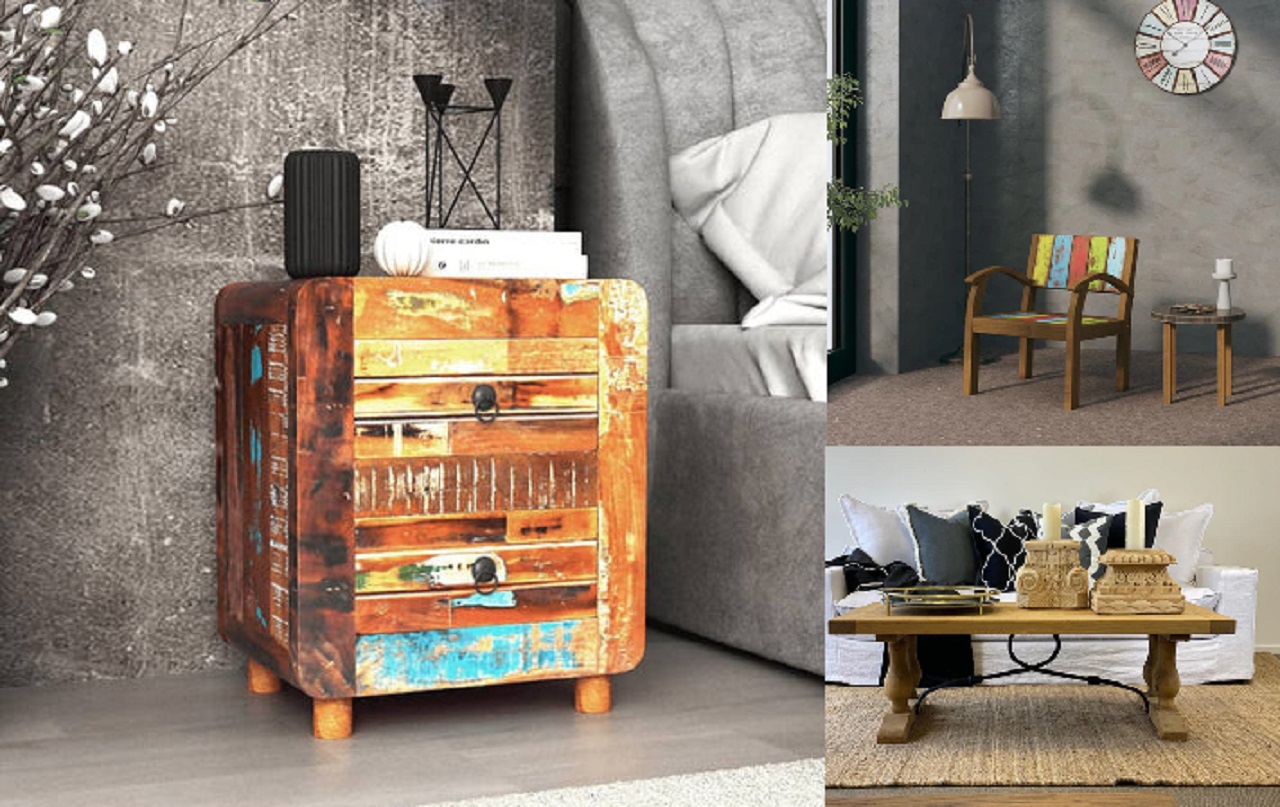 Reclaimed furniture can be a great option for a number of reasons. For one thing, reclaimed wood is generally much more durable than newer wood. This is due to the fact that the old trees used for making reclaimed furniture have very tight growth rings, which makes them extremely dense and durable. However, they're also much heavier.
Choosing the right piece of reclaimed wood furniture
When purchasing reclaimed wood furniture at utopiahome.com.au, it's important to consider the characteristics of each piece. These characteristics can include the wood grain and knots, small nail holes, and mineral deposits. Some pieces are naturally rough and rustic, while others have a smooth finish. You may want to look for these characteristics if you want to give your room a vintage look.
Size is an important consideration. You don't want something so large that it feels overwhelming or too small. Otherwise, it won't fit well in your room. Also, think about where you'd like to place your piece. This will ensure that the reclaimed furniture has the greatest impact on the room.
Color and grain pattern are other considerations. Reclaimed wood is available in a wide range of colors and textures. The colors and grain pattern can range from light to dark. Some pieces are smooth, while others have tight grain lines or round circles. You can pair light-colored pieces with white fabrics and accessories to create a sophisticated look.
Reclaimed wood furniture can fit into almost any space. It can be used as a focal point in a formal setting or a casual space. Reclaimed wood furniture can stand up to years of use. It's an excellent option if you want to make your home more unique.
Care for reclaimed wood furniture
If you have reclaimed wood furniture, there are a few things you need to do to take care of it. The first thing you should do is protect it from direct sunlight. Exposure to the sun can cause the wood to dry out and crack. Moisture in the air can also affect reclaimed wood.
The next step is to clean it regularly. Dusting with a lint-free cloth is a good way to keep reclaimed wood furniture clean and free from stains. You can also use a small paintbrush to remove any crumbs. You should also avoid using any furniture polish, as this will leave residue that attracts dust.
Taking care of reclaimed wood furniture is not a hard task, but you should do it properly. The material is extremely durable, but it still needs to be protected. You should also place it in a room that is not exposed to direct sunlight. This will prevent it from warping and will also protect the wood from UV rays.
To clean reclaimed wood furniture, you can use a mild cleaning solution. You can use a cleaning solution made of white vinegar and olive oil. After cleaning, wipe it down with a dry cloth. You can repeat this process if necessary. However, you should be very careful to avoid heavy scrubbing as it can cause damage to the wood.
Environmental impact of reclaimed wood furniture
Reclaimed wood furniture is environmentally friendly because it helps limit the amount of wood waste that goes to landfills. By purchasing reclaimed wood, you are helping to keep trees from being cut down, and it prevents waste from making its way into landfills. In the UK alone, there are an estimated 4.5 million tonnes of wood waste each year, and sending perfectly usable wood to a landfill is unnecessary and damaging to the environment. Furthermore, wood naturally decomposes in nature, but wood in landfills is contaminated with other waste and slows down its decomposition process.
In addition to being environmentally friendly, reclaimed wood also reduces the amount of wood that is consumed by the construction industry. The production of new wood creates a large amount of CO2 emissions. In fact, eight to ten percent of new wood is illegally forested. Purchasing reclaimed wood furniture helps reduce this demand and helps combat climate change and the extinction of rare species.
Using reclaimed wood for furniture also helps the environment by reducing the amount of new wood that is dumped into landfills. In addition, new wood uses energy and water to grow and harvest, which further pollutes the environment. Additionally, reclaimed wood also helps the environment by shortening supply chains and reducing transportation of necessary materials. Furthermore, reclaimed wood becomes stronger with age and doesn't require any chemical treatments.